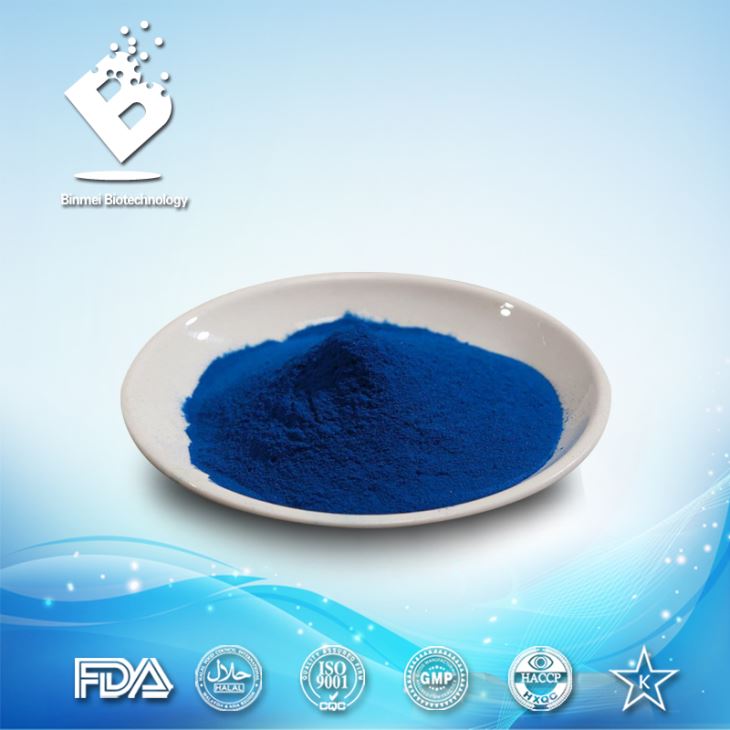 Water Soluble Fluorescent Phycocyanin Powder
Min Order

10

Product Unit

Kilogram/Kilograms

Price

$ 150 - 170

Origin

China Mainland

Payment
Quick Detail
model:

E18

Brand:

BINMEI

place of origin:

China (Mainland)

Extraction method:

Other

Part:

Other

Traits:

Powder

Types of:

Other
Product Detail
Water Soluble Fluorescent Phycocyanin Powder
Product Description
Phycocyanin is a pigment from the light-harvesting phycobiliprotein family, along with allophycocyanin and phycoerythrin. It is an accessory pigment to chlorophyll. All phycobiliproteins are water-soluble and therefore cannot exist within the membrane as do carotenoids, but aggregate forming clusters that adhere to the membrane called phycobilisomes.
Phycocyanin is a characteristic light blue colour, absorbing orange and red light, particularly near 620 nm (depending on which specific type it is), and emits fluorescence at about 650 nm (also depending on which type it is).
Specification Data
Analysis

Specification

Result

Appearance

Blue fine powder

Complies

Odor

Characteristics

Complies

Solubility

water soluble

Complies

Loss on Drying

=7.0%

4.0%

Relative density

For information only

0.51g/ml

Heavy Metal

<10ppm

Complies

As

=1ppm

Complies

Residual Solvents

Eur. Pharm.

Complies

Microbiology

Total Plane Count

<1000cfu/g

Complies

Yeast & Moulds

<100cfu/g

Complies

E. Coli

Negative

Complies

Salmonella

Negative

Complies
Main Function
Phycocyanin Powder is a special blue pigment, extracted from spirulina. Phycocyanin could be used as natural food color.
Phycocyanin Powder can be widely used in the food and beverage industry as natural coloring such as ice cream, candy and cakes.
Spirulina Phycocyanin Application
Allophycocyanin absorbs and emits at longer wavelengths than Phycocyanin C or Phycocyanin R. Phycocyanins are found in Cyanobacteria (previously called blue-green algae). Phycobiliproteins have fluorescent properties that are used in immunoassay kits.
The product phycocyanin, produced by Aphanizomenon flos-aquae and Spirulina, is used in the food and beverage industry as a natural coloring agent 'Lina Blue' and is found in sweets and ice cream as well as Nutritious and immune strenthen product.
Packaging & Delivery
Package & Storage
1. 25kgs/drum, inner by double plastic bag, 1~20kg by aluminum foil vacuum bag.
2. Stored in a cool & dry well-closed container, keep away from moisture and strong light/heat.
3. Shelf life: Two years under well storage situation.
Transport & Shipping
1. Small package send by EMS, UPS, FedEx, DHL, etc.
2. Cargo send by Air or By Sea is all available.
3. Delivery time about 5-7 working days By Air, 20-25 days By sea.
4. Payment available for L/C, T/T, Paypal, Moneygram, Western Union, etc.
Company Information
Zhejiang Binmei Biotechnology Co.,Ltd is located in state-level APIs base, Linhai eastern medical technology park which specializing in natural plant extracts, also has independent intellectual property rights about phycocyanin extraction. its independent innovation "high activity phycocyanin natural purification technology" won national patent technology, and its technology has advanced world level ! At present, the company has made 8 technical patents in the field of marine biology. The company has an experienced technical and sales management team. Welcome all the customers, businessmen and companies from all parts of the world to contact us and seek for good cooperation to achieve mutual benefits.
Why choose us?
1. The factory have passed the ISO9001, ISO14001, Kosher, HACCP and Chinese Health Food GMP
2. We inspect the manufacture process strictly and the quality can be controlled;
3. We supply high quality products, reasonable price, prompt delivery
4. Our best quality extract with natural and pure. No additives, organically grown.
Our Services:
1. About shipping method: DHL / EMS / UPS / FedEx / TNT / Air Cargo.
2. About QC: All goods will be inspected before shipment.
3. About OEM service: OEM orders are acceptable as your requirement.
4. About delivery time: Normally, it will take 3 working days from China to destination country.
After-Sale Service:
1. International Authorized Third-Party Test For The Products You Demand.
2. 60 Days Warranty of quality of goods.
China Taizhou

Favorites