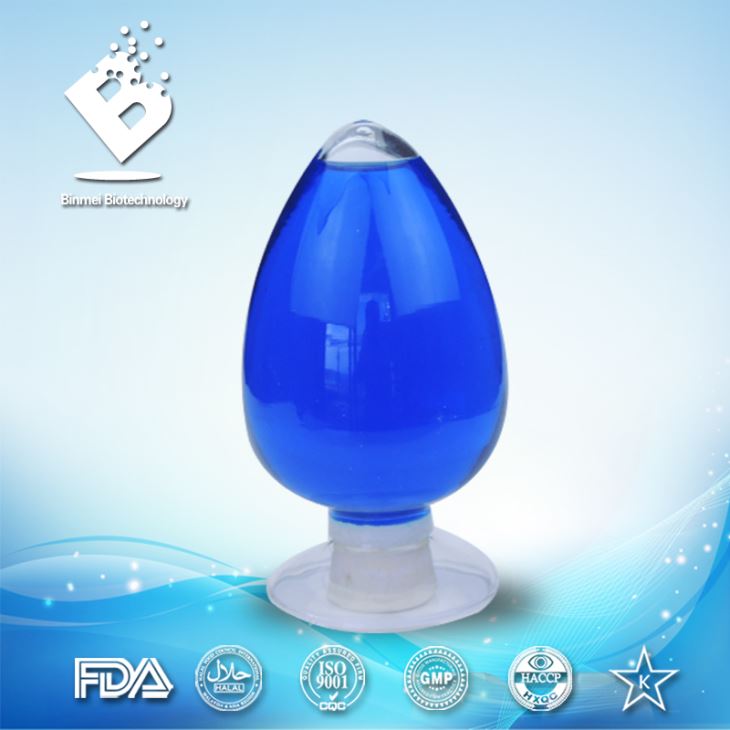 Natural Blue Color Spirulina Extract Phycocyanobilin Colourant
Min Order

10

Product Unit

Kilogram/Kilograms

Price

$ 50 - 80

Origin

China Mainland

Payment
Quick Detail
model:

E3.0

Brand:

BINMEI

place of origin:

China (Mainland)

Extraction method:

Other

Part:

Other

Traits:

Other

Types of:

Other
Product Detail
Natural Blue Color Spirulina Extract Phycocyanobilin Colourant
Product Description
Spirulina, a blue-green algae, is the immortal descendent of the earth's original life form. Over 3.5 billion years ago, blue-green algae produced our oxygen atmosphere so life could evolve. Much later on, wild harvests of spirulina nourished peoples in Central America and Africa.
Phycocyanin is a pigment-protein complex from the light-harvesting phycobiliprotein family, along with allophycocyanin and phycoerythrin.It is an accessory pigment to chlorophyll. All phycobiliproteins are water-soluble, so they cannot exist within the membrane like carotenoids can. Instead, phycobiliproteins aggregate to form clusters that adhere to the membrane called phycobilisomes.
Main Function
1.Phycocyanin Powder can improve immunity,keep full vitality,resist radiation,strengthen metabolism,and discharge toxin.
2.Phycocyanin Powder can be to treat hypertension,effectively to treat diabetes,can effectively prevent liver disease,and also effectively to treat constipation and hemorrhoids;
3.Phycocyanin Powder is effectual to treat the ulcer of digestive organs.
Blue Color Spirulina Phycocyanin Application
1. As medicines raw materials for anti-inflammatory and regulating menstruation, it is mainly used in pharmaceutical field;
2. As products of health products, it is widely used in the field of health care products;
3. As colorant and seasoning, it is mainly used as a food and beverage filed.
Packaging & Delivery
Packing: 1kg/bag,5kg/bag,or 25kg/Hardboard drum,or at your requirment.
1KG : Double pharma-grade polybag inside,sealed Aluminum foil bag outside;
5KG : Double pharma-grade polybag inside,Hardboard cartons outside;
25KG: Double pharma-grade polybag inside,Hardboard drum outside.
Drum size: 38CM*38CM*51CM/25kg , Drum Net Weight: 1.5KG
Carton size: According to the Qty.
Shipping: By TNT/DHL/EMS/FedEx or by Air/ Sea as per Qty.
Shelf Life: 24 months when properly stored.
Storage: Store in Cool and dry place,keep away from strong light,hight temperature.
Company Information
Zhejiang Binmei Biotechnology Co.,Ltd is located in state-level APIs base, Linhai eastern medical technology park which specializing in natural plant extracts, also has independent intellectual property rights about phycocyanin extraction. its independent innovation "high activity phycocyanin natural purification technology" won national patent technology, and its technology has advanced world level ! At present, the company has made 8 technical patents in the field of marine biology. The company has an experienced technical and sales management team. Welcome all the customers, businessmen and companies from all parts of the world to contact us and seek for good cooperation to achieve mutual benefits.
Why choose us?
1. Free sample(10-50g or enough to detection) and Unconditional assume response
2. Flexible Order Qty.
3. Have right to do commodity inspection
4. Guaranteed after-sale service
We're always here by your side! And always open for any of your inquiring message. Just get to contact with us!
Our service
1. We inspect the manufacture process strictly and the quality can be controlled;
2. We supply high quality products, reasonable price, prompt delivery
3. Our products are natural, pure and no additives.
We specialize in plant extract, amino acid, API & intermediates, food additive, nutraceutical supplement etc. Our businesses have already extended to more than 50 countries that separately located in Europe, America, East & Southeast Asia, Africa and Oceania. We have: extensive experience, professional R&D and sales team, strict quality control, competitive price
China Taizhou

Favorites