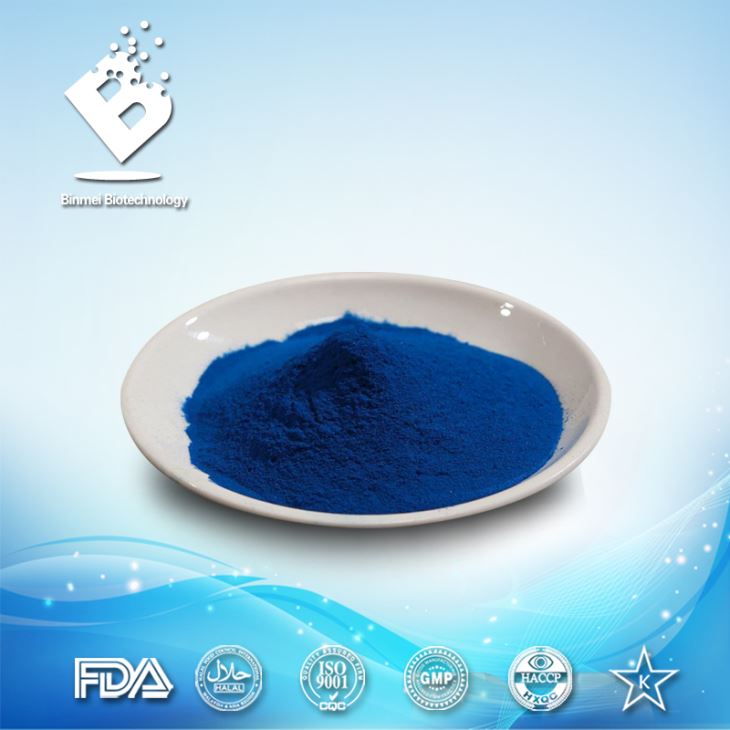 Healthy Supply Blue Colorant Phycocyanin Spirulina Extract
Min Order

10

Product Unit

Kilogram/Kilograms

Price

$ 150 - 170

Origin

China Mainland

Payment
Quick Detail
model:

E18

Brand:

BINMEI

place of origin:

China (Mainland)

Extraction method:

Other

Part:

Other

Traits:

Powder

Types of:

Other
Product Detail
Healthy Supply Blue Colorant Phycocyanin Spirulina Extract
Product Description
It has good water soluble, alcohol and lipid insoluble. Phycocyanin powder accounts for as much as 50% protein and attaches itself to photosynthesizing membranes, also it`s anti-inflammatory and antioxidant.
Phycocyanin Powder is a special blue pigment, extracted from spirulina. Phycocyanin could be used as natural food color.
Phycocyanin Powder can be widely used in the food and beverage industry
Specs
Analysis Item

Specification

Results

Method

Color Value(10%E618nm)

>250 unit

253 unit

*As per below

Physical Test

Appearance

Blue Powder

Conform

Visual

Odor

Characteristic

Conform

Smell

Solubility

Water Soluble

Conform

Visual

Taste

Characteristic

Conform

Sensory

Particle Size

100% Pass 80 mesh

Conform

Sieve

Loss on Drying

=7.0%

4.5%

Heat&Weight

Chemical Tests

Lead (Pb)

=1 ppm

0.28 ppm

Atomic absorption

Arsenic (As)

=1 ppm

0.31 ppm




Mercury (Hg)

<0.1ppm

0.02 ppm




Cadmium (Cd)

<0.2ppm

0.06 ppm




Aflatoxin

Max0.2µg/kg

Not detected

SGS in house method-Elisa

Pesticide

Not detected

Not detected

SOP/SA/SOP/SUM/304

Microbiological Tests




Total Plate Count

=1000 cfu/g

410 cfu/g

Bacterial culture

Yeast and Mold

=100 cfu/g

= 20 cfu/g

Bacterial culture

E.Coli

Negative/g

Negative/g

Bacterial culture

Coliforms

<3cfu/g

<3cfu/g

Bacterial culture

Salmonella

Negative/25g

Negative/25g

Bacterial culture

Pathogenic Bacteria

Negative/g

Negative/g

Bacterial culture

Conclusion

Conforming to the quality standard.

Shelf Life

2 years when stored in tightly sealed containers in cool and dry place.
Main Function
Rejuvenates damaged cells & bone marrow;
Improves blood flow and reduces "stickiness" and "stacking"
Rehabilitates bone marrow damaged by radiation, to produce healthy blood cells again
* Strengthens immune system
Enhances production of antibodies and interleukin-1 to fight infections
Inhibits cancer cells growth & spread in the body
* Super Antioxidant & Anti Free-Radical
Phycocyanin is a powerful anti-oxidant & anti-hydroxyl radical (The most dangerous & toxic free radicals produced during chemotherapy, when exposed to hand phone radiation, deep fried foods)
Protect cells against DNA damage
* Detoxifier and liver protector
It has powerful anti-inflammatory properties
It has strong chelating power – to leach out heavy metals (mercury and lead) and toxins
It protects and improves liver function.
Blue Color Spirulina Phycocyanin Application
1. Applied in health care product, phycocyanin powder used as raw materials;
2. Applied in food field, phycocyanin powder used as pigments, food additives of seasoning;
3. Applied in pharmaceutical field, phycocyanin powder used as raw materials for anti-inflammatory and regulating menstruation.
Packaging & Delivery
1. Aluminum foil bag: Little quantity of extraction powder packaged in a plastic bag, and with aluminum foil bag outside.Regular1kg-10kg per bag.
2. Cardboard drum: Bulk weight packaged in double plastic bag with a cardboard drum outside. Regular 25kg-28kg per drum.
3. Delivery Time: Within 7 days after received buyer's payments
Company Information
Zhejiang Binmei Biotechnology Co.,Ltd is located in state-level APIs base, Linhai eastern medical technology park which specializing in natural plant extracts, also has independent intellectual property rights about phycocyanin extraction. its independent innovation "high activity phycocyanin natural purification technology" won national patent technology, and its technology has advanced world level ! At present, the company has made 8 technical patents in the field of marine biology. The company has an experienced technical and sales management team. Welcome all the customers, businessmen and companies from all parts of the world to contact us and seek for good cooperation to achieve mutual benefits.
Why choose us?
1. New 8000 square meter lab equipped with advanced instruments like GC, HPLC, GC/MS and HPLC/MS.
2. Having been applying for CMA, China Metrology Accreditation.
3. Dozens of patents for innovations in herbal extract field so far.
4. Finished products 100% inspected.
5. Product safety is our top priority--We work with CIQ, Intertek and SGS...
China Taizhou

Favorites