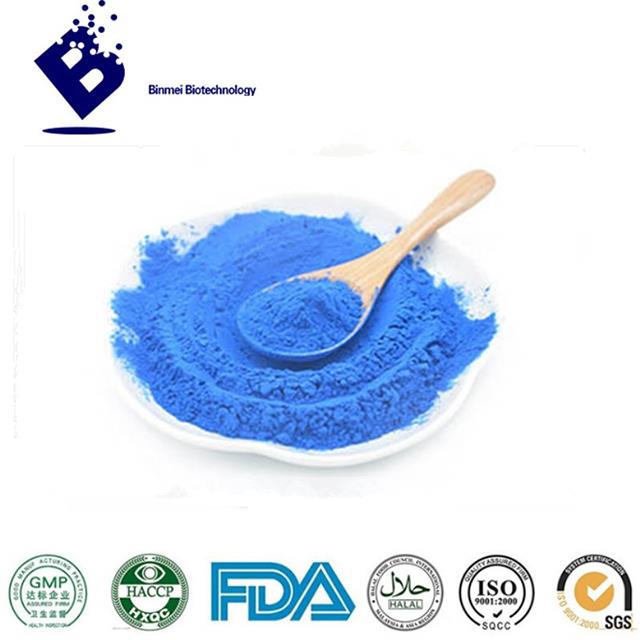 Natural Food Colorant Phycocyanin Spirulina Extract Blue Powder
Min Order

1

Product Unit

Kilogram/Kilograms

Price

$ 150 - 175

Origin

China Mainland

Payment
Quick Detail
model:

E18

Brand:

BINMEI

grade:

Food Grade.pharmaceutical Grade

place of origin:

China (Mainland)

Extraction method:

Other

Part:

Other

Traits:

Powder

Types of:

Other
Product Detail
Product Information

?Product Name? : Phycocyanin (Spirulina Extact)
?Raw Material?: Spirulina
?Brand?: BINMEI
?Specification? : E18 ( Food Grade )
?Character?:Blue powder, with red fluorescence.
?Odour?: Character
?Ingredients?: 30% Trehalose, 5% Sodium citrate
?Purity Representation?: Amax/A280
?Color Vale?: =180 (E10%618 nm in distill water)
?Max absorption peak?: ?620±5 nm
?Fluorescence excitation peak?: ?647 nm
?Solubility?: Soluble in water, insoluble in alcohol and grease
?Execution Standard?: Manufacturer's Standard
?Manufacturer?: Zhejiang Binmei Biotechnology Co.,Ltd
?Origin Country?: China
?CAS No.?: 11016-15-2
?EU CAS?: 223751-80-2
?EINECS?: 234-248-8
?HS Code?: 1302199099
Product Application
Natural edible pigment
Phycocyanin is a water-soluble pigment, non-toxic, pure blue, can be used as a food colorant and cosmetic additive. Itself is a nutritious protein with a full range of amino acids.The body's essential amino acids account for 37.2% of the total weight.
Products that can be applied in:Ice cream, chewing gum, powder drink, cool drink, cake, candy, jelly, noodles, mustard, sugar coated tablets, capsules, etc.
Cosmetic field
Phycocyanin is a class of collagen with antioxidation, moisturizing, anti - allergy, antiphlogistic, freckle and other effects, its color shows beautiful ocean blue. Now we have become the supplier of L'OREAL & DANZ .
Medical and health care
The experiment of phycocyanin in vitro shows that it has the effect of stimulating the production of erythrocyte colony(Similar to the effect of EPO). Phycocyanin can regulate a variety of important enzymes in the human body, play an important role in inhibiting the growth of cancer cells and promoting the regeneration of human cells . It can also regulate the immune system of the human body to improve the immunity. A lot of phycocyanin compound drugs have been developed to promote immunity against diseases. So in the future, Phycocyanin will be a safe & valuable target therapy drug and a tumor photosensitizer.
Biology, chemistry and cytology
The blue colour of phycocyanin has fluorescence property. A characteristic reagent that can be used as a biological, chemical, and cytological experiment, the effect of fluorescence is 30 times as high as that of the common fluoro .
Agricultural field
Phycocyanin is the main photosensitive protein in the phycogallin series , Its the light harvesting antenna for algae cells . The application of fertilizer to the leaf surface can promote plant photosynthesis.Photosensitization of phycocyanin caused by sunlight,The effect of an antiviral and anti bacterial effect on plants .Experiments by the Beijing Academy of Agricultural Sciences and the Shandong Vegetable Research Institute have proved that phycocyanin contains specific plant auxin.
Certifications
• FDA Food Facility Registration
• EU Organic Standards, Halal Certificate, Kosher Certificate
• Our production facility is certified by HACCP and ISO 22000, and GMP
• Research ability is accredited by multiple patents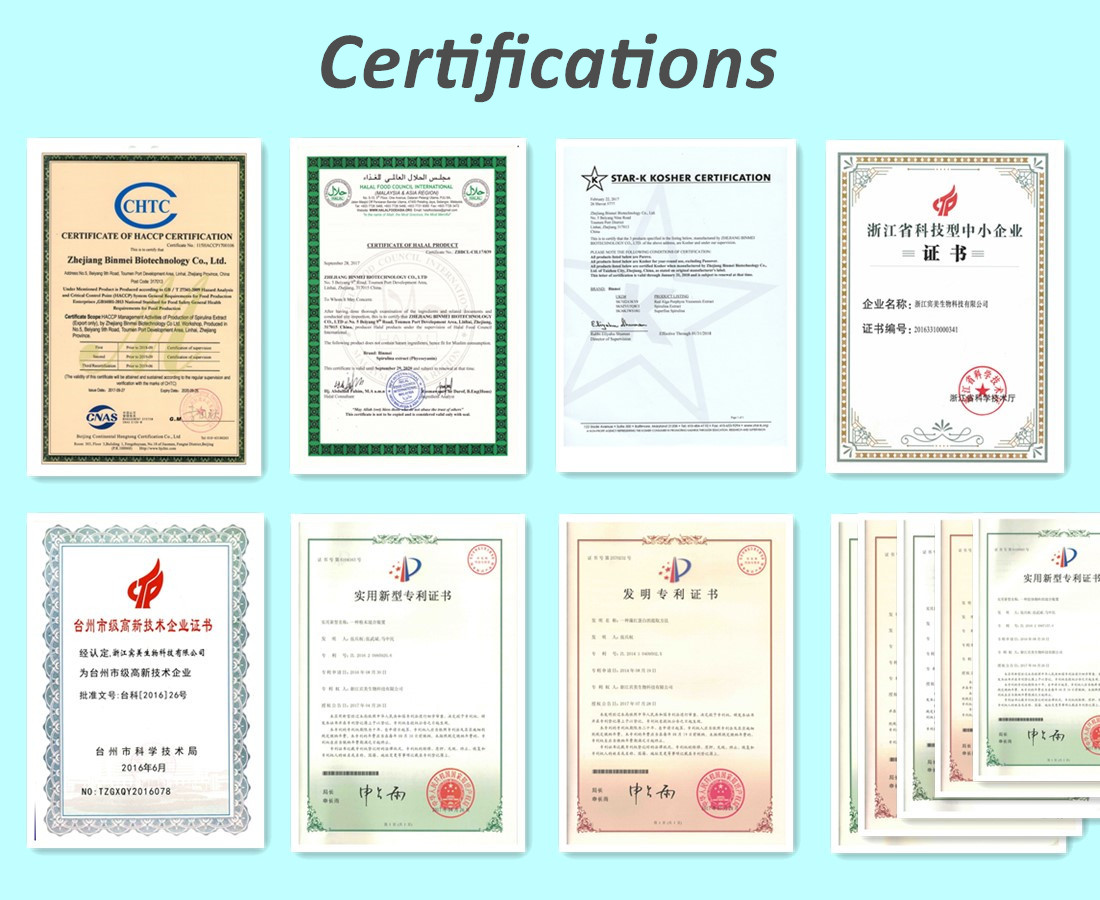 Packaging & Delivery
• Delivery Time: Around 3-5 workdays after your payment.
• Package: In carton with two aluminum foil bags inside.
• Net Weight: 10.2kgs/Carton / Gross Weight: 11.8kgs/Carton
• Carton Size & Volume: 67cm × 40cm × 21cm, about 0.06 m³/ Carton
• Storage: Stored in dry and cool place, keep away from strong light and heat.
• Shelf Life: Two years when properly stored.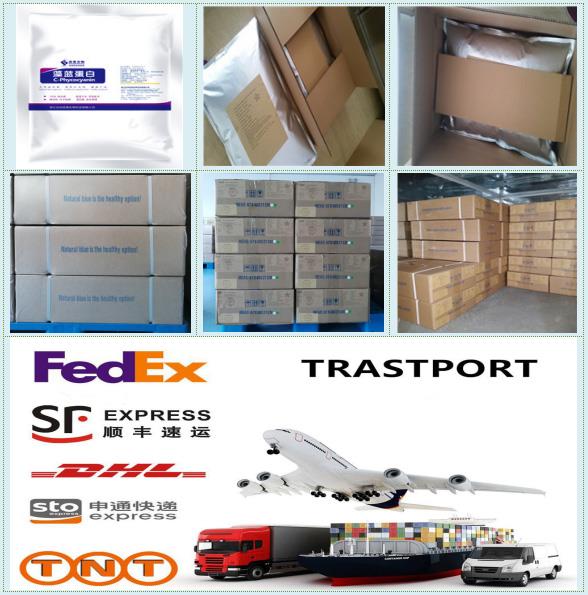 About Us
Zhejiang Binmei Biotechnology Co.,Ltd is established in 2013, registered capital RMB10 million.
It locate in Zhejiang Linhai Hi-tech Development Zone (near by Geely Automotive Industry Park & Zhejiang National Pharmaceutical Industrial Park ). Binmei specialize in manufacturing high quality and reliable (powder & liquid & oil soluble ) Phycocyanin(Spirulina Extract) which is widely used in fields of food, health, cosmetics, pharmaceuticals and others.
Binmei is one of the few technology companies that can produce phycocyanin on a large scale in the world. It has the independent intellectual property rights about spirulina extraction, its independent innovation'high activity phycocyanin natural purification technology'won the national patent technology.
Its high-quality products are widely exported to the United States, Germany, Japan, South Korea and other countries.
China Taizhou

Favorites