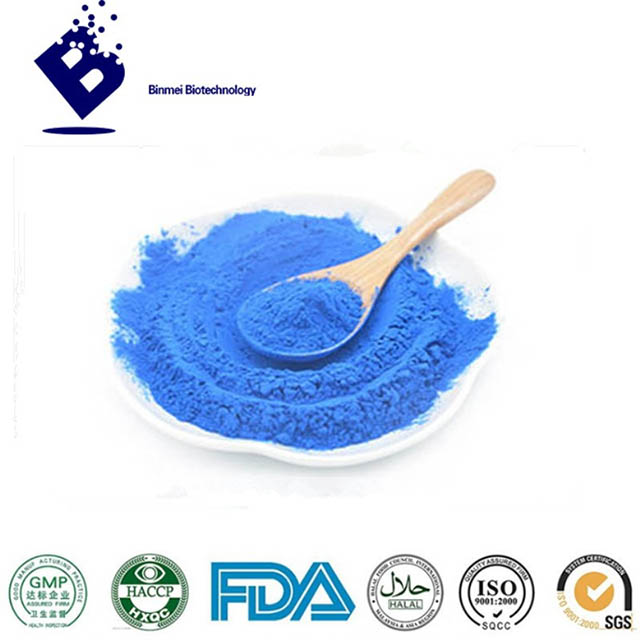 100% Natural Blue Phycocyanobilin Spirulina Extract Powder Healthy Food
Min Order

10

Product Unit

Kilogram/Kilograms

Price

$ 150 - 170

Origin

China Mainland

Payment
Quick Detail
model:

E18

Brand:

BINMEI

grade:

Food

place of origin:

China (Mainland)

Extraction method:

Liquid-Solid Extraction

Part:

Other

Traits:

Powder

Types of:

Other
Product Detail
100% Natural Blue Phycocyanobilin Spirulina Extract Powder Healthy Food
Product Description:
Phycocyanin is the main ingredient in Spirulina Extract. And it is known to support healthy inflammatory response and has many antioxidant effects.

Main Function:
1. Phycocyanin is a water-soluble pigment, non-toxic, pure, lovely clear, can be used as a food coloring agent, cosmetic additives.
2. Phycocyanin is a powerful anti-oxidant & anti-hydroxyl radical, protect cells against DNA damage.
3. Phycocyanin has powerful anti-inflammatory properties.
4. Phycocyanin is a strong chelating power - to leach out heavy metals (mercury and lead) and toxins, it protects and improves liver function.
Product Feature:
Product Name

Supplier

Specification

Appearance

Ingredients

Color Value
(10%E618nm)

Solubility

Spirulina extract
(Phycocyanin)

BINMEI

E18

Blue Powder

30% Trehalose,
5% Sodium Citrate

>180

Water Soluble.
100% in DW
Spirulina extract
(Phycocyanin)

BINMEI

E25

Blue Powder

5% Sodium Citrate

>250

Water Soluble.
100% in DW
Spirulina extract
(Phycocyanin)

BINMEI

E3.0

Blue Liquid

Invert sugar,
Water,
D-Trehalose,
Spirulina concentrate,
Trisodium citrate

>30

Water Soluble.
100% in DW
Company Information
Zhejiang Binmei Biotechnology Co.,Ltd is located in state-level APIs base, Linhai eastern medical technology park which specializing in natural plant extracts, also has independent intellectual property rights about phycocyanin extraction. Its independent innovation "high activity phycocyanin natural purification technology" won national patent technology, and its technology has advanced world level ! At present, the company has made 8 technical patents in the field of marine biology. The company has an experienced technical and sales management team. Welcome all the customers, businessmen and companies from all parts of the world to contact us and seek for good cooperation to achieve mutual benefits.
Why choose us?
1. Owning cultivation base as 100% natural material stable source, the whole process complies with GMP requirements.
2. ISO, GMP, FDA Manufacturer direct supply with powerful R&D team and advanced test centre.
3.Most professional manufacturer in China with Excelent sales team coopration.
4. Water as solvent, ensures the safety of the product with no pesticide residue.
5. Used as natural health raw material cosmetic and healthy product such as mask, night scream, oral liquid, etc.
China Taizhou

Favorites