PPR Fitting Reducing Elbow
Min Order

10

Product Unit

Boxes

Price

$ 0.2 - 2.6

Origin

China Mainland

Payment
Quick Detail
Head shape:

Other

shape:

Equal

Connection method:

Other

Brand:

Yonggao

model:

PRR 001

place of origin:

China (Mainland)

Types of:

Other

Process:

Other

Material:

PP-R
Product Detail
ERA Piping Systems, PPR Pipe Fitting ,REDUCING ELBOW ,PRR001,(DIN8077/8088) , DVGW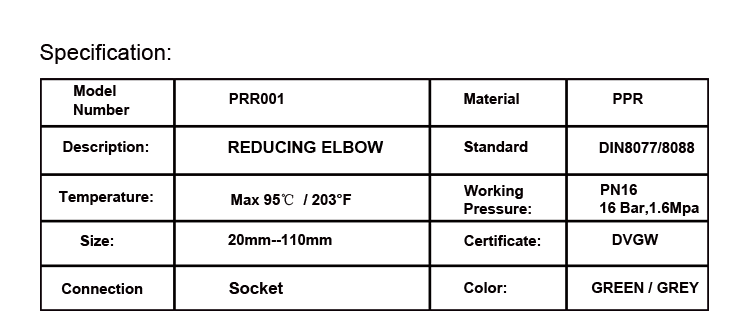 Industrial Status
NO.1 in Export: The largest export scale for independent brand
Most certificates: Products are certified among over 100 nations in Europe and America.
Rich in DIfferent series products and standards: DIN, ASTM , AS/NZS, etc.
Most trademark registration
Specification: Referenced Standards:DIN 8077&DIN8078 DVGW examination certificate
PPR is very economically placed in comparison to most of the alternative piping system.
PPR pipe is corrosion resistant and abrasion resistant material in mining applications.
PPR pipe has a smooth inner surface, thus not letting any calcification to happen inside the pipe.
FIELDS OF APPLICATION
1.Process Water
2.Cooling Water
3.Dual Containment Piping Systems
4.Fertilizer
5.Chilled water line
6.Dual Containment Piping Systems
System:
Good long term pressure resistance and easy processing and installation technique give cold and hot water systems made of PP-R pipes an advantage as an alternative to the traditional systems.
Smooth layer provides less resistance hence require less power to push the fluid.
PPR pipe is non-decaying and non-deforming and even frost proof due to very little heat losses from the pipe surface.
China Taizhou

Favorites