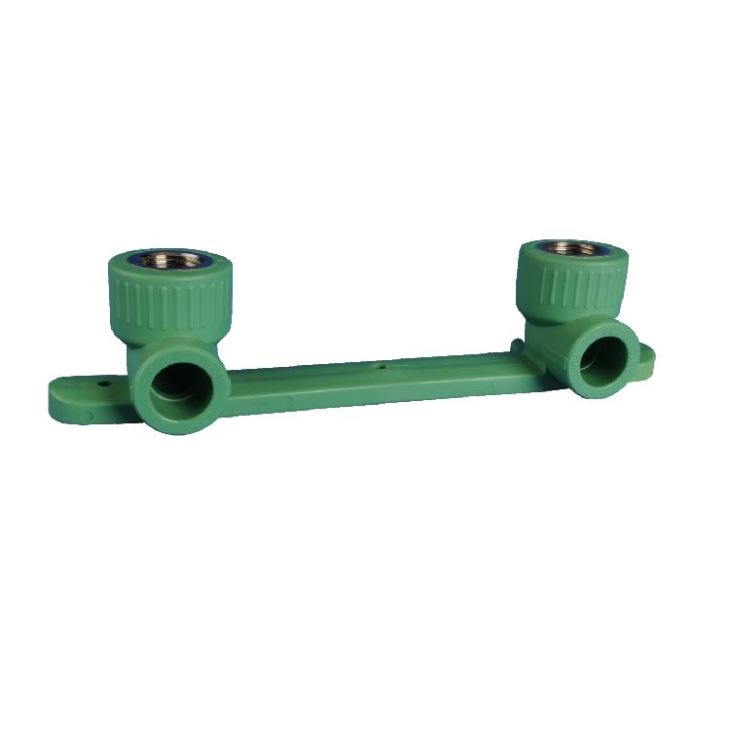 PPR Fitting Pouble Female Thread Elbow with Plate
Min Order

10

Product Unit

Boxes

Price

$ 1.2 - 1.5

Origin

China Mainland

Payment
Quick Detail
Head shape:

Other

shape:

Equal

Connection method:

Female

Brand:

Yonggao

model:

PRV 001

place of origin:

China (Mainland)

Types of:

Other

Process:

Other

Material:

PP-R
Product Detail
ERA Piping Systems, PPR Pipe Fitting ,PPR POUBLE FEMALE THREAD ELBOW WITH PLATE,PRV001,(DIN8077/8088) , DVGW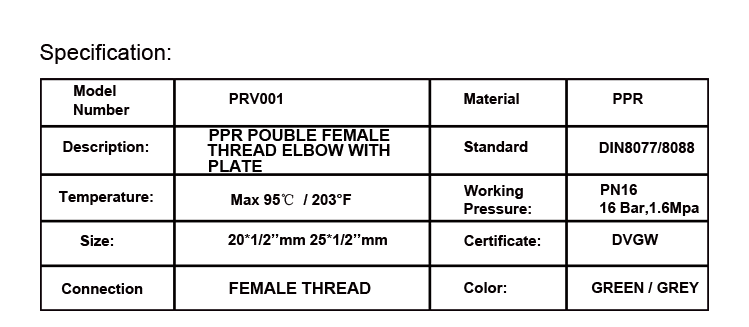 Raw material

Raw material -- CPVC ( from JAPAN SEKISUI) , PPR (from Korea HYOSUNG), HDPE (from BOROUGE),
Also Domestic PVC material compounded by YONGGAO research institue ,which can pass NSF certificate.
Scope: The integrated system is easy to use and install, fulfills the stringent requirements of the water sector and offers excellent value for money.
ERA's PPR is the ideal and above all cost-effective solution for piping installations in schools, hospitals, hotels, office blocks as well as in fields of modular construction.
PPR pipes and fittings are suitable for hot and cold water transfer in buildings, underfloor and central heating systems. They can also be used for air ducts in industry and agriculture.
Specification: PPR pipe and fittings conforming to DIN 8077&DIN 8078. Pipe and fittings shall be manufactured as a system and be the product of one manufacturer.

PPR is light weight, easy to install, and reduces the number of fittings needed in a system because of its flexibility.
PPR pipe is corrosion resistant and abrasion resistant material in mining applications.
PPR pipe has a smooth inner surface, thus not letting any calcification to happen inside the pipe.
FIELDS OF APPLICATION
1.Barge loading and unloading Tank storage
2.Liquor, bleaching, and caustic acid lines
3.Boiler Pipe line
4.Transportation of Slurries
5.Organic Chemicals
6.Fertilizer 1.Toxic and corrosive chemicals industry, for the flow of aggressive
China Taizhou

Favorites